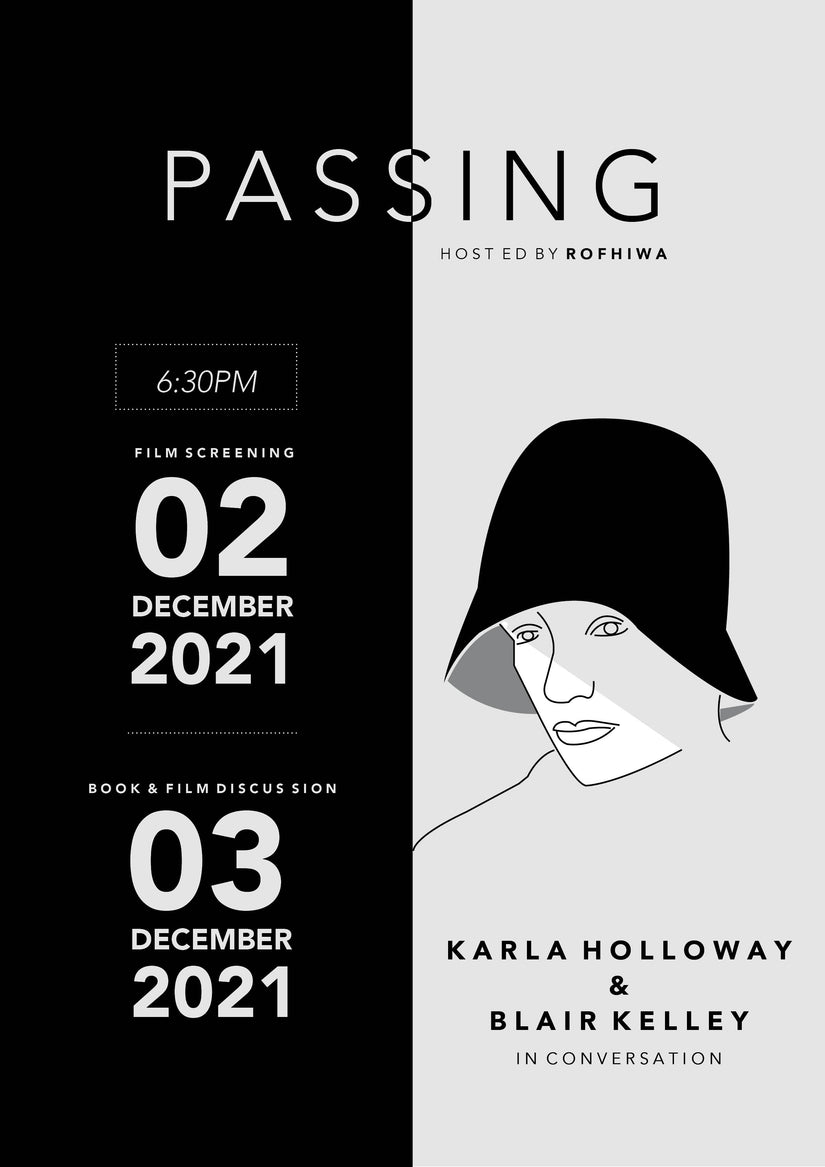 Karla Holloway and Blair Kelley discuss the Netflix adaptation of Nella Larsen's 1929 novel, Passing which explores the complicated intersection between race, class and culture through two women's experiences of passing in 1920s New York. Join us for this spirited conversation which will be preceded by a Rofhiwa in-store screening of Passing - the film. Holloway is the author of the novel A Death in Harlem which Kirkus Reviews described as the "the spiritual successor to Nella Larsen's 1929 novel..." Blair Kelley is a historian of the African American experience who is active both in an outside the academy. She was highlighted as one of the "top tweeting historians" by History News Network.  
Registration and Attendance
We will offer seating for up to 26 in-person guests, with priority access given on a first-come-first-serve basis.  This is a two day event; Film screening December 2nd and discussion December 3rd.
The discussion between Karla Holloway will also be live-streamed on Crowdcast.io and free with registration - click "Save My Spot" above or visit 
https://www.crowdcast.io/e/passing-film-screening
About our guests
Karla FC Holloway is James B. Duke Emerita Professor of English, African American Studies and Professor of Law at Duke University. Her classrooms and scholarship focused on literature, law and bioethics. In 2017 she turned her full attention to writing fiction. In 2019 her debut literary fiction, A Death in Harlem, a mystery set during the Harlem Renaissance was published by Triquartely. Gone Missing in Harlem was published in 2021 - her sophomore novel about memory, mothering and resilience, bridging the Harlem Renaissance and the Great Depression. 
Blair LM Kelley is Assistant Dean for Interdisciplinary Studies and International Programs in the College of Humanities and Social Sciences and Associate Professor of History at North Carolina State University. She is the author of the award-winning book, Right to Ride: Streetcar Boycotts and African American Citizenship in the Era of Plessy v. Ferguson. Right to Ride won the prestigious Letitia Woods Brown Best Book Award from the Association of Black Women Historians. Kelley is currently at work on a new book project called Black Folk: The Promise of the Black Working Class under contract at Liveright, an imprint of W.W. Norton and Company.
Active inside the academy and out, Kelley has produced and hosted her own podcast and has been a guest on MSNBC's Melissa Harris Perry Show, NPR's Here and Now, and WUNC's The State of Things. She has written for the New York Times, the Washington Post, The Root, The Grio, Ebony, Salon, and Jet Magazine. Highlighted as one of the top-tweeting historians by History News Network, Kelley was among the first generation of historians active on twitter. She has been tweeting as @profblmkelley for more than ten years and she has over 40,000 followers.
Kelley received her B.A. from the University of Virginia in History and African and African American Studies.  She earned her M.A. and Ph.D. in History, and graduate certificates in African and African American Studies and Women's Studies at Duke University.
Do you like any template? Apply its settings to your store — just select the template you like and press the «Apply» button of the desirable one. Templates can be switched at any time.
Applying a new template overrides the settings. Press «Copy» and paste it into any text file to save your current settings.
Import