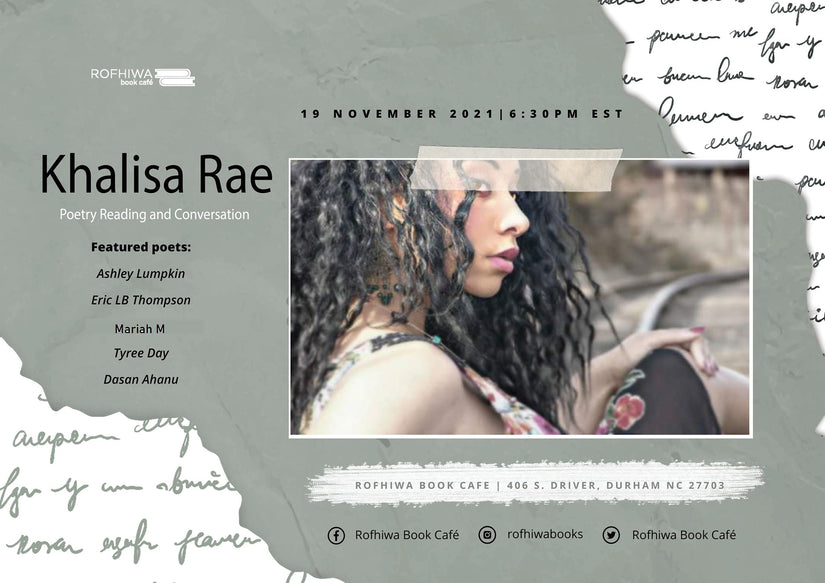 An evening of poetry and conversation with debut author of Ghost in a Black Girl's Throat, Khalisa Rae, at her Rofhiwa Book Cafe book signing with some of the best and brightest poetry talents Durham has to offer.
Come see: Dasan Ahanu, Tyree Daye, Ashley Lumpkin, Lyrically Blessed, and Mariah Monsanto read poems and engage in a conversation around, Southern racism, justice, healing, and reconciliation.
*Books available for signing and purchase at the event*
Registration and Attendance
We will offer seating for up to 30 in-person guests, with priority access given on a first-come-first-serve basis. If you choose to pre-order a copy of Ghost in a Black Girl's Throat through Rofhiwa, you will have the option to reserve a seat. Please use your order comments to indicate whether you would like 1-2 seats reserved for you.
This event will also be live-streamed on Crowdcast.io and free with registration - click "Save My Spot" above or visit https://www.crowdcast.io/e/khalisa-rae-poetry
Do you like any template? Apply its settings to your store — just select the template you like and press the «Apply» button of the desirable one. Templates can be switched at any time.
Applying a new template overrides the settings. Press «Copy» and paste it into any text file to save your current settings.
Import