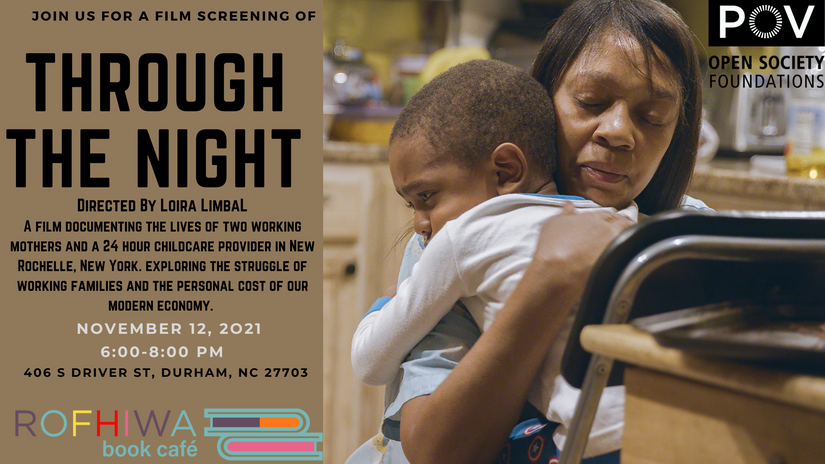 This event is brought to you in partnership with Point of View (POV) - PBS's acclaimed documentary series. The screening will be preceded by a conversation with Aqiyla Thomas (POV head of Community Engagement) and the Co-Founders of Dee's Tots Daycare: Deloris "Nunu" Hogan and Patrick "Pop Pop" Hogan.
Registration and Attendance 
PRE-SCREEN EVENT live on Crowdcast.io. Register here!
SCREENING in-person at Rofhiwa Book Cafe | 406 S. Driver, Durham NC 27703. We will offer seating for the in-person screening for up to 20 guests.  Priority access will be given to those who pre-register by reserving a FREE ticket here.
This pre-screening event will be live-streamed on Crowdcast.io and free with registration - click "Save My Spot" above to register for the livestream. 
About the Film 
THROUGH THE NIGHT is a cinema verité portrait of three working NY mothers whose lives intersect at a 24-hour daycare center: a mother working the overnight shift as an essential worker at a hospital; another holding down three jobs to support her family; and a woman who for over two decades has cared for the children of parents with nowhere else to turn. A tender portrait of titanic strength, love, and selflessness, THROUGH THE NIGHT showcases the multiplicity of "women's work" -- paid, underpaid, and unpaid; emotional and physical; domestic and career-oriented -- all while negotiating the terms of a dignified existence under the three arrows of racism, sexism, and capitalism in America.
DIRECTED AND PRODUCED BY LOIRA LIMBAL, an Afro-Dominican filmmaker and DJ interested in the creation of art that is nuanced and revelatory for communities of color.  Limbal is the Senior Vice President of Programs at Firelight Media,  a Sundance Institute Fellow, NAACP Image Award nominee, a DOC NYC Documentary New Leader, Chicken & Egg Award recipient, and a former Ford Foundation JustFilms/Rockwood Fellow.  
Limbal received a B.A. in History from Brown University and is a graduate of the Third World Newsreel's Film and Video Production Training Program. She lives in the Bronx with her two children. Her first film, ESTILO HIP HOP, was a co-production of ITVS and aired on PBS in 2009. 
THROUGH THE NIGHT is a New York Times Critics' Pick and was selected for a world premiere at the 2020 Tribeca Film Festival. 
Do you like any template? Apply its settings to your store — just select the template you like and press the «Apply» button of the desirable one. Templates can be switched at any time.
Applying a new template overrides the settings. Press «Copy» and paste it into any text file to save your current settings.
Import