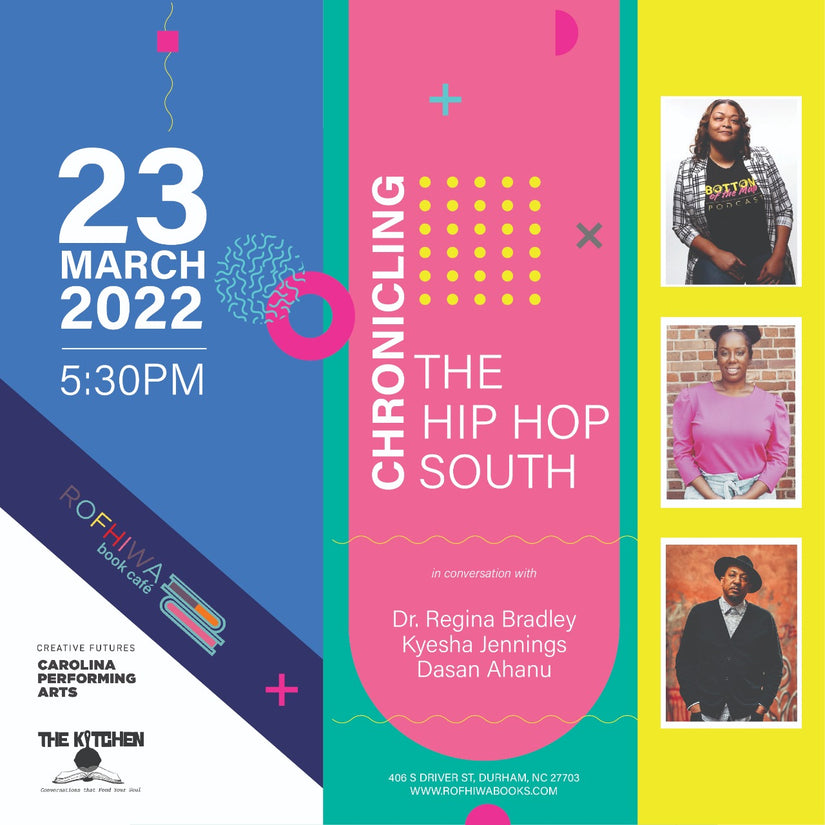 In collaboration with The Kitchen and Carolina Performing Arts, we are thrilled to host Chronicling The Hip-Hop South, a conversation between Regina Bradley, Dasan Ahanu and Kyesha Jennings on Southern Hip-Hop and Black Southern culture more broadly. Regina Bradley will speak about her book Chronicling Stankonia: The Rise of the Hip-Hop South which she has stated, she envisions as "a blueprint to have a more complex conversation about Southern hip-hop." 
Registration and Attendance 
This is a hybrid event - in person and via livestream on Crowdcast.  We will offer seating for up to 30 in-person guests, with priority access given to those who purchase the book at rofhiwabooks.com. If you choose to pre-order a copy through Rofhiwa, please use your order comments to indicate whether you would like 1-2 seats reserved for you. 
You may access the live-stream on Crowdcast.io free with registration - click "Save My Spot" above
About Chronicling Stankonia: The Rise of the Hip-Hop South 
Chronicling Stankonia probes the ways music, literature, and film have remixed southern identities for a post–civil rights generation. For scholar and critic Regina N. Bradley, Outkast's work is the touchstone, a blend of funk, gospel, and hip-hop developed in conjunction with the work of other culture creators—including T.I., Kiese Laymon, and Jesmyn Ward. This work, Bradley argues, helps define new cultural possibilities for black southerners who came of age in the 1980s and 1990s and have used hip-hop culture to buffer themselves from the historical narratives and expectations of the civil rights era. André 3000, Big Boi, and a wider community of creators emerge as founding theoreticians of the hip-hop South, framing a larger question of how the region fits into not only hip-hop culture but also contemporary American society as a whole. 
Chronicling Stankonia reflects the ways that culture, race, and southernness intersect in the late twentieth and early twenty-first centuries. Although part of southern hip-hop culture remains attached to the past, Bradley demonstrates how younger southerners use the music to embrace the possibility of multiple Souths, multiple narratives, and multiple points of entry to contemporary southern black identity.
About Dr. Regina N. Bradley
Dr. Regina Bradley  is an alumna Nasir Jones HipHop Fellow (Hutchins Center, Harvard University, Spring 2016), Associate Professor of English and African Diaspora Studies at Kennesaw State University, a faculty editor for Southern Cultures journal, and co-host of the critically acclaimed southern hip hop podcast Bottom of the Map with music journalist Christina Lee. Dr. Bradley is one of the foremost authorities on contemporary Black culture in the American South. Her expertise and research interests include post-Civil Rights African American literature, hip hop culture, race and the contemporary U.S. South, and sound studies. Dr. Bradley earned a B.A. in English from Albany State University (GA), an M.A. in African American and African Diaspora Studies from Indiana University Bloomington, and a Ph.D. in African American Literature from Florida State University. 
Dr. Bradley is the author of Chronicling Stankonia: the Rise of the Hip-Hop South.  Chronicling Stankonia explores how Atlanta, GA hip hop duo OutKast influences the culture of the Black American South in the long shadow of the Civil Rights Movement. Dr. Bradley is also the editor of a collection of essays about OutKast for the University of Georgia Press titled An OutKast Reader. 
A prominent public voice and leading scholar on southern Black life and culture, Dr. Bradley's work has been featured on a range of news media outlets including Washington Post, NPR, and Atlanta Journal Constitution. Additionally, In May, 2017 Dr. Bradley delivered a TEDx talk, "The Mountaintop Ain't Flat," about the significance of hip hop in bridging the American Black South to the present and future.  
As a complement to her scholarship, Dr. Bradley is also an acclaimed fiction writer. Her first short story collection, Boondock Kollage: Stories from the Hip Hop South, was published by Peter Lang press in 2017. Jesmyn Ward described the stories in Boondock Kollage as leaving her "breathless and incoherent." Dr. Bradley's short story "Beautiful Ones" was a 2017 Pushcart Prize nominee in short fiction. Her other stories have been featured in Obsidian, Transition, and Oxford American. Dr. Bradley's fiction has been supported by the Callaloo Creative Writing Workshop and the Tin House Summer Workshop. She is currently working on her first novel, Reluctant Ancestors, about the disappearance of a teenaged black boy in Southwest Georgia.
About Dasan Ahanu 
Dasan Ahanu is a public speaker, organizer, curator, educator, poet, spoken word artist, educator, songwriter, and emcee, and loyal Hip Hop head born and raised in Raleigh, North Carolina. He is co-founder and managing director of Black Poetry Theatre, a Durham based theatre company that creates and produces original poetry and spoken word based productions. As an active participant in poetry slam, Dasan has competed regionally and nationally as a founding member and coach of Durham, NC's own Bull City Slam Team. In 2010 and 2014, Ahanu led the Bull City Slam Team in winning the Southern Fried Southeastern Regional Poetry Slam, the largest regional poetry slam in the country. He also led the team to a 3rd place finish at the 2010 National Poetry Slam and a 2nd place finish in Group Piece Finals at the 2012 National Poetry Slam. 
About Keysha Jennings
Keysha Jennings is a multi-hyphenate creative, feminist, hip-hop scholar and freelance writer. She writes, teaches, speaks, researches and creates content about hip-hop and popular culture. She is currently an English Lecturer and Faculty Mentor at NC State University where she teaches First Year Writing. 
Kyesha is a sought-after speaker and has been an invited guest at Virginia Tech University, UNC Chapell Hill, Averett University and A3C Hip-Hop Festival. She has presented at over 15 academic conferences on composition, literature and hip-hop. Her research focuses on Black Literature in general, but more specifically, her research centers Black women writers, hip-hop studies, hip-hop feminism and digital media. 
Kyesha is a freelance writer who has established herself as the go-to writer for all things North Carolina hip-hop. As a contributing writer for the Indy Week, Kyesha runs a bi-weekly column, "Her Take: On Carolina Hip-Hop." She has interviewed legendary hip-hop artists from the likes of 9th Wonder, DJ Jazzy Jeff, and Ali Shaheed Muhammad of a Tribe Called Quest.
Do you like any template? Apply its settings to your store — just select the template you like and press the «Apply» button of the desirable one. Templates can be switched at any time.
Applying a new template overrides the settings. Press «Copy» and paste it into any text file to save your current settings.
Import