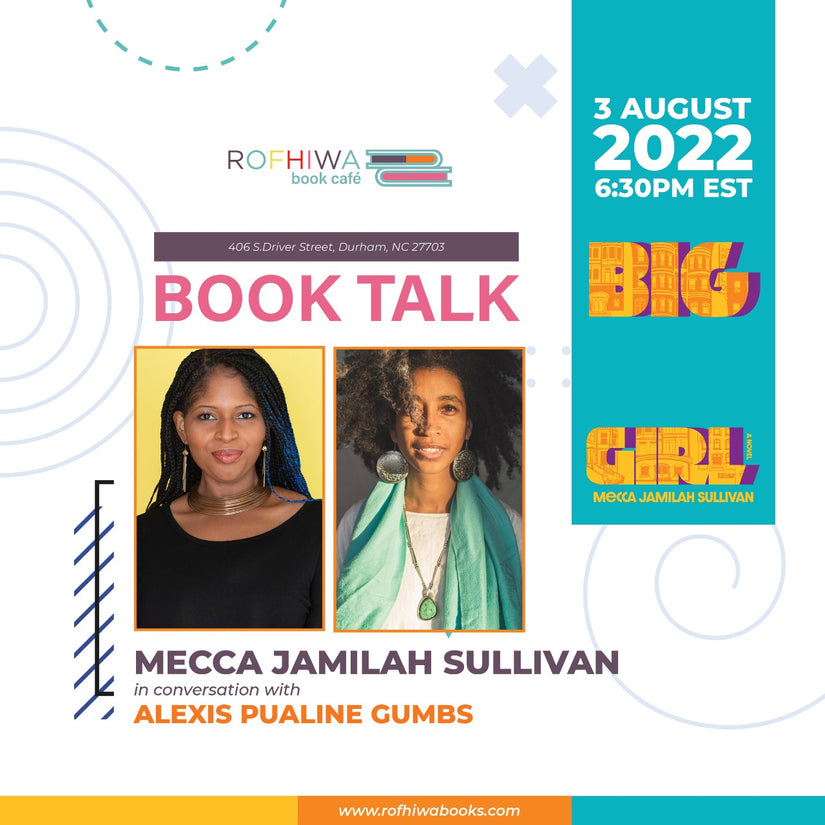 We are thrilled to host the launch of Big Girl, A Novel that traces the intergenerational hungers and desires of Black womanhood. Please join us as author of Big Girl, Mecca Jamilah Sullivan talks to Black feminist scholar, poet and activist Alexis Pauline Gumbs. This is an in-person event. 
Registration: 
We will offer seating for up to 35 in-person guests, with priority access given to those who purchase the book. To register for the in person in store event, click on "Save My Spot" and purchase your hardcover and ticket. This will ensure that your seat is reserved on the day of the event.   
About Mecca Jamilah Sullivan:
Mecca Jamilah Sullivan is an associate professor of English at Georgetown University, and the author of Blue Talk and Love, winner of the Judith A. Markowitz Award from Lambda Literary. A native of Harlem, she lives in Philadelphia, Pennsylvania.She holds a Ph.D. in English Literature from the University of Pennsylvania, an M.A. in English and Creative Writing from Temple University, and a B.A. in Afro-American Studies from Smith College. In her fiction, she explores the intellectual, emotional, and bodily lives of young Black women through voice, music, and hip-hop inflected magical realist techniques. Her short stories have appeared in Best New Writing, Kenyon Review, American Fiction: Best New Stories by Emerging Writers, Prairie Schooner, Callaloo, Crab Orchard Review, Robert Olen Butler Fiction Prize Stories, BLOOM: Queer Fiction, Art, Poetry and More, TriQuarterly, Feminist Studies, All About Skin: Short Stories by Award-Winning Women Writers of Color, DC Metro Weekly, Baobab: South African Journal of New Writing, and many others. A Pushcart Prize nominee, she is the winner of the Charles Johnson Fiction Award, the Glenna Luschei Fiction Award, the James Baldwin Memorial Playwriting Award, the 2021 Pride Index National Arts and Culture award, and honors from the National Endowment for the Arts, the Bread Loaf Writers' Conference, The Yaddo Colony, the Hedgebrook Writers' Retreat, Lambda Literary, the Publishing Triangle, and the Center for Fiction in New York City, where she received an inaugural Emerging Writers Fellowship.
About Alexis Pauline Gumbs:
Alexis Pauline Gumbs is a queer Black feminist writer, scholar and aspirational favorite cousin to all life, energy and matter. She is the author of the forthcoming The Eternal Life of Audre Lorde.  Here recent books include  Undrowned  Dub: Finding Ceremony, M Archve: After the End of the World  and Spill: Scenes of Black Feminist Fugitivity.  She is also coeditor of Revolutionary Mothering: Love on the Frontlines (PM Press, 2016). Alexis is a 2022 Whiting Award Winner for Nonfiction, a 2022 National Endowment for the Arts Fellow and she was a 2020-2021 National Humanities Center Fellow.   Alexis is creative writing editor of Feminist Studies, literary advisor for the Ntozake Shange Trust, and the co-creator of the Mobile Homecoming Trust, a living library amplifying generations of Black LGBTQ Brilliance in Durham, NC.
Big Girl: A Novel 
Growing up in a rapidly changing Harlem, eight-year-old Malaya hates when her mother drags her to Weight Watchers meetings; she'd rather paint alone in her bedroom or enjoy forbidden street foods with her father. For Malaya, the pressures of her predominantly white Upper East Side prep school are relentless, as are the expectations passed down from her painfully proper mother and sharp-tongued grandmother. As she comes of age in the 1990s, she finds solace in the music of Biggie Smalls and Aaliyah, but her weight continues to climb—until a family tragedy forces her to face the source of her hunger, ultimately shattering her inherited stigmas surrounding women's bodies, and embracing her own desire. Written with vibrant lyricism shot through with tenderness, Big Girl announces Sullivan as an urgent and vital voice in contemporary fiction.
Do you like any template? Apply its settings to your store — just select the template you like and press the «Apply» button of the desirable one. Templates can be switched at any time.
Applying a new template overrides the settings. Press «Copy» and paste it into any text file to save your current settings.
Import