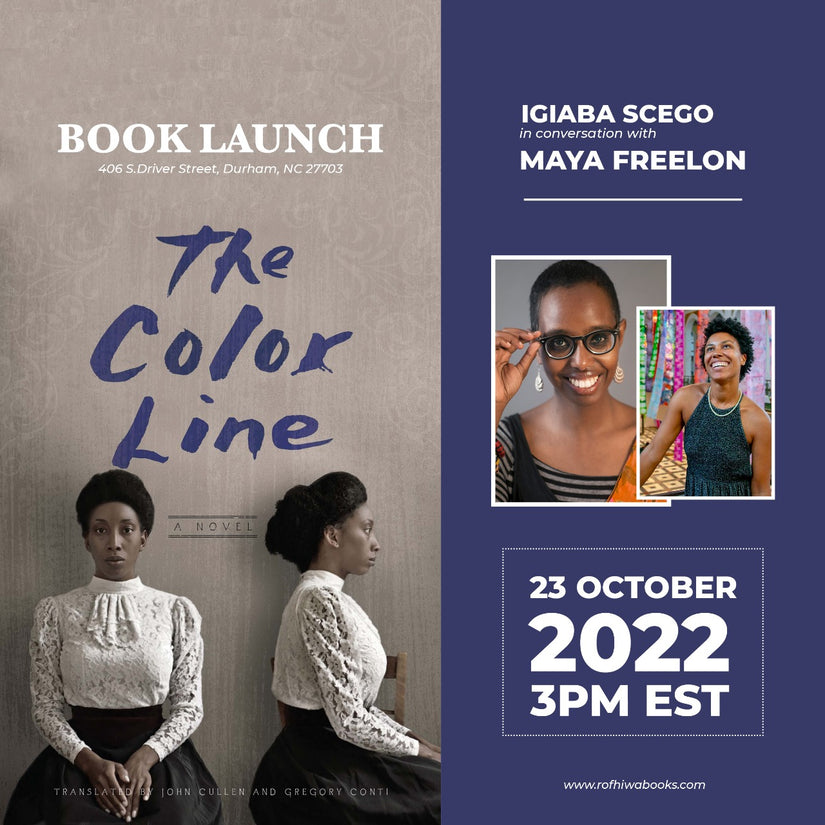 Please join us for an afternoon with author, Igiaba Scego and Durham visual artist, Maya Freelon as we launch Scego's third novel, The Color Line. Igiaba's third novel, The Color Line combines the characters of Edmonia Lewis and Sarah Parker Remond and is dedicated to Rome and to these two African-American women who lived in 19th-century Rome - interweaving the lives of two women artists, more than a century apart and both living in Italy. 
We look forward to your presence at Rofhiwa for an afternoon of literature, art and wonderful conversation. This is an in-person, in store event. 
Registration: 
We will offer seating for up to 35 in-person guests, with priority access given to those who purchase the book. To register for the in person in store event, click on "Save My Spot" and purchase your paperback. This will ensure that your seat is reserved on the day of the event.   
About Igiaba Scego:
Igiaba Scego, born in Rome in 1974 to a family of Somali origin, is a writer and journalist. She is the author of numerous works of fiction and nonfiction. Her novels Oltre Babilonia (2008), Adua (2015) and La linea del colore (2020) have been translated into English, and her memoir La mia casa è dove sono won Italy's prestigious Mondello Prize. She is a frequent contributor to the magazine Internazionale and the supplement to La Repubblica, Il Venerdì di Repubblica.
About Maya Freelon: 
Maya Freelon is an award-winning visual artist.  Her artwork was featured on the cover of Walter Magazine, in Garden & Gun magazine, highlighting the new book, Southern Women, and most recently, Luxe Interiors + Design. Cosmopolitan Magazine called her one "of the most badass female artists in the biz" and Miami New Times selected her as one of "five Young Artists to Watch During Miami Art Week 2019."
Her unique tissue paper art, praised by the International Review of African American Art as "a vibrant, beating assemblage of color," has been exhibited internationally, including shows in Paris, Jamaica, Madagascar, and Italy.
Maya has completed residencies at the Skowhegan School of Painting and Sculpture in Maine, the Korobitey Institute in Ghana, and the Brandywine Workshop in Philadelphia. She earned a BA from Lafayette College and an MFA from the School of Museum of Fine Arts, Boston.
The Color Line: 
Inspired by true events, this gorgeous, haunting novel intertwines the lives of two Black female artists more than a century apart, both outsiders in Italy.
It was the middle of the nineteenth century when Lafanu Brown audaciously decided to become an artist. In the wake of the American Civil War, life was especially tough for Black women, but she didn't let that stop her. The daughter of a Native American woman and an African-Haitian man, Lafanu had the rare opportunity to study, travel, and follow her dreams, thanks to her indomitable spirit, but not without facing intolerance and violence. Now, in 1887, living in Rome as one of the city's most established painters, she is ready to tell her fiancé about her difficult life, which began in a poor family forty years earlier.
In 2019, an Italian art curator of Somali origin is desperately trying to bring to Europe her younger cousin, who is only sixteen and has already tried to reach Italy on a long, treacherous journey. While organizing an art exhibition that will combine the paintings of Lafanu Brown with the artworks of young migrants, the curator becomes more and more obsessed with the life and secrets of the nineteenth-century painter.
Weaving together these two vibrant voices, Igiaba Scego has crafted a powerful exploration of what it means to be "other," to be a woman, and particularly a Black woman, in a foreign country, yesterday and today.
Do you like any template? Apply its settings to your store — just select the template you like and press the «Apply» button of the desirable one. Templates can be switched at any time.
Applying a new template overrides the settings. Press «Copy» and paste it into any text file to save your current settings.
Import