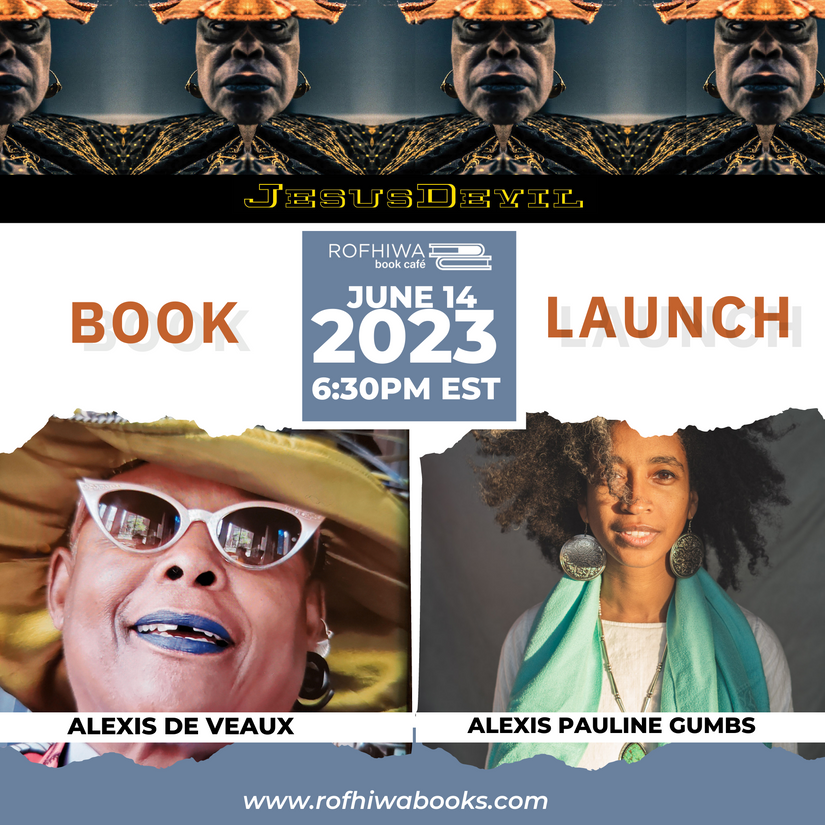 Join us for the launch of Jesus Devil, a nonlinear tale of black life from black queer feminist independent scholar, Alexis De Veaux.  Part of the Emergent Strategy Series from AK Press, Jesus Devil is a daring new work and crowning achievement from a veteran storyteller. 
Accompanying Alexis De Veaux is Black feminist scholar, poet and activist, Alexis Pauline Gumbs. We look forward to a rich evening of conversation on the intersections of Blackness, Queerness and spiritual expression. This is an in-person, in-store event.  
Registration: 
We will offer seating for up to 35 in-person guests, with priority access given to those who purchase the book. To register for the in person in store event, click on "Save My Spot" and purchase your paperback and ticket. This will ensure that your seat is reserved on the day of the event.   
About Alexis De Veaux:
Alexis De Veaux  is a black queer feminist independent scholar whose internationally known work is published in six languages. She has been publishing fiction, poetry, plays, memoirs, and children's literature since 1973, and her work is anthologized in numerous collections. De Veaux is the author of Yabo and Warrior Poet: A Biography of Audre Lorde; and was tenured faculty at the University at Buffalo, Department of Women's Studies, for more than twenty years, mentoring a new generation of interdisciplinary scholars of black, feminist, and queer studies. 
About Alexis Pauline Gumbs:
Alexis Pauline Gumbs is a queer Black feminist writer, scholar and aspirational favorite cousin to all life, energy and matter. She is the author of the forthcoming The Eternal Life of Audre Lorde.  Here recent books include  Undrowned  Dub: Finding Ceremony, M Archve: After the End of the World  and Spill: Scenes of Black Feminist Fugitivity.  She is also coeditor of Revolutionary Mothering: Love on the Frontlines (PM Press, 2016). Alexis is a 2022 Whiting Award Winner for Nonfiction, a 2022 National Endowment for the Arts Fellow and she was a 2020-2021 National Humanities Center Fellow.  Alexis is creative writing editor of Feminist Studies, literary advisor for the Ntozake Shange Trust, and the co-creator of the Mobile Homecoming Trust, a living library amplifying generations of Black LGBTQ Brilliance in Durham, NC.
Jesus Devil
A brilliantly crafted voyage of queer, Black possibility.
"[Alexis] said that what she was currently writing was called afiction, something that was coming through her that was not built as a linear story of generated characters, but as a revealed poetics of gathered and ever-changing spirit.… As she sent me the JesusDevil parables she had written to that point, I read them immediately and asked for more. I felt like I had won a literary lottery for my soul. What I got to read, what you are about to read, is a text that I believe will take its place in Black feminist classic creative literature alongside Toni Cade Bambara's The Salt Eaters, Ntozake Shange's For Colored Girls Who Have Considered Suicide…When the Rainbow is Enuf, with the spirit mystery of Toni Morrison's Beloved. And—it is unlike any of these, or anything else I've ever read." —adrienne maree brown, from the foreword
Evocative and experimental, JesusDevil is a nonlinear tale of black life and spiritual expression. Writing in a style she calls "afiction," Alexis De Veaux expands and moves beyond traditional narrative, following the adventures of Fhill, a black, queer spirit who has taken human form. Neither male nor female, Fhill moves fluidly and disruptively across concepts of identity, passing through the nine "parables" that comprise this text. Examining aspects of what it means to be black and human—from a nonhuman perspective—Fhill's liminal nature redefines social and literary categories, exploring social constructions of blackness as well as themes of desire, memory, sex, revenge, and more. A daring new work and crowning achievement from a veteran storyteller. Cover art by Sokari Ekine, photographer and visual artist.
Do you like any template? Apply its settings to your store — just select the template you like and press the «Apply» button of the desirable one. Templates can be switched at any time.
Applying a new template overrides the settings. Press «Copy» and paste it into any text file to save your current settings.
Import