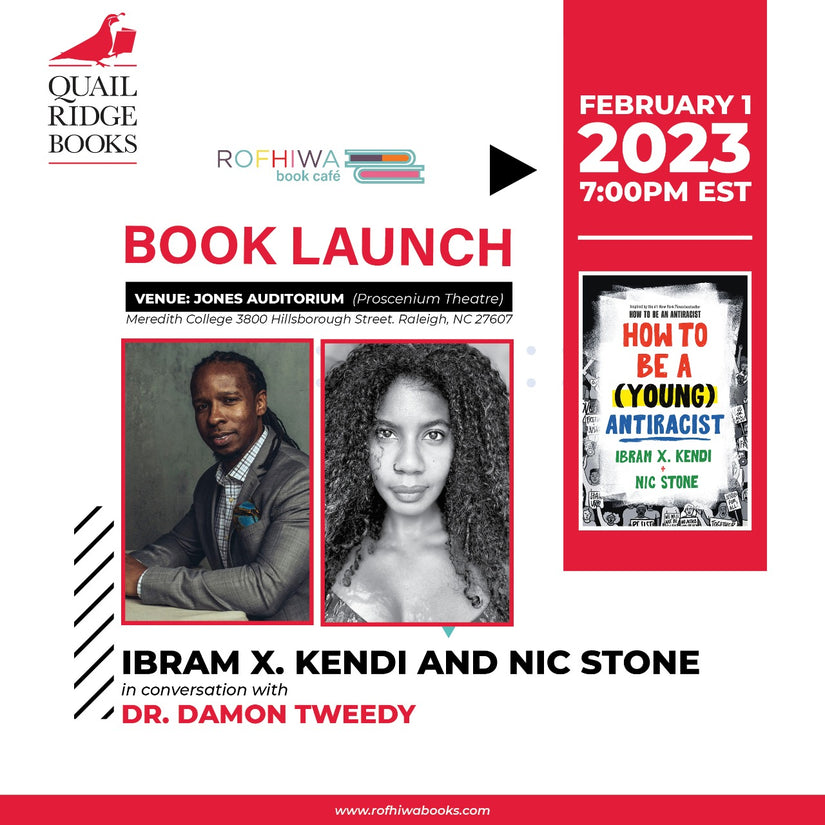 Please join us for the launch of How to Be a (Young) Antiracist with co-authors Dr. Ibram X. Kendi and Nic Stone in conversation with Durham based author and psychiatrist, Dr. Damon Tweedy. Based on the adult bestseller by Ibram X. Kendi, and co-authored by bestselling author Nic Stone, How to Be a (Young) Antiracist is a dynamic reframing of the concepts shared in the adult book, How to Be an Antiracist, with young adulthood front and center. This is an in-person, offsite event, presented by Rofhiwa Book Cafe in partnership with Quail Ridge Books. 
Registration:
To register for the in-person event, click on "Save My Spot" to purchase your ticket. This will ensure that your seat is reserved on the day of the event.
The purchase of one ticket includes one reserved seat and a signed copy of How to Be a (Young) Antiracist.
This is an OFFSITE event at Meredith College's Jones Auditorium in partnership with Quail Ridge Books. 
About Dr. Ibram X. Kendi:
Dr. Ibram X. Kendi is the Andrew W. Mellon Professor in the Humanities at Boston University and the founding director of the BU Center for Antiracist Research. He is a contributing writer at The Atlantic and a CBS News racial justice contributor. He is the host of the new action podcast Be Antiracist. Dr. Kendi is the author of many highly acclaimed books including Stamped from the Beginning: The Definitive History of Racist Ideas in America, which won the National Book Award for Nonfiction, making him the youngest-ever winner of that award. He has also produced five straight #1 New York Times bestsellers, including How to Be an Antiracist, Antiracist Baby, and Stamped: Racism, Antiracism, and You, co-authored by Jason Reynolds. In 2020, Time magazine named Dr. Kendi one of the 100 most influential people in the world. He was awarded a 2021 MacArthur Fellowship, popularly known as the Genius Grant.
About Nic Stone:
Nic Stone was born and raised in a suburb of Atlanta, GA. After graduating from Spelman College, she worked extensively in teen mentoring and lived in Israel for a few years before returning to the US to write full-time. You can find her on her website: nicstone.info.
About Damon Tweedy, MD:
Damon Tweedy, MD is an associate professor of psychiatry and behavioral sciences at the Duke University School of Medicine and staff physician at the Durham Veteran Affairs Health System. He is the author of Black Man in a White Coat: A Doctor's Reflections on Race and Medicine. Dr. Tweedy has written extensively about the intersection of race and medicine, both in academic journals and popular print publications with bylines in the New York Times, Washington Post, Chicago Tribune, and Raleigh News & Observer. He lives outside of Raleigh-Durham, North Carolina, with his family. 
How To Be A (Young) Antiracist:
Do you like any template? Apply its settings to your store — just select the template you like and press the «Apply» button of the desirable one. Templates can be switched at any time.
Applying a new template overrides the settings. Press «Copy» and paste it into any text file to save your current settings.
Import