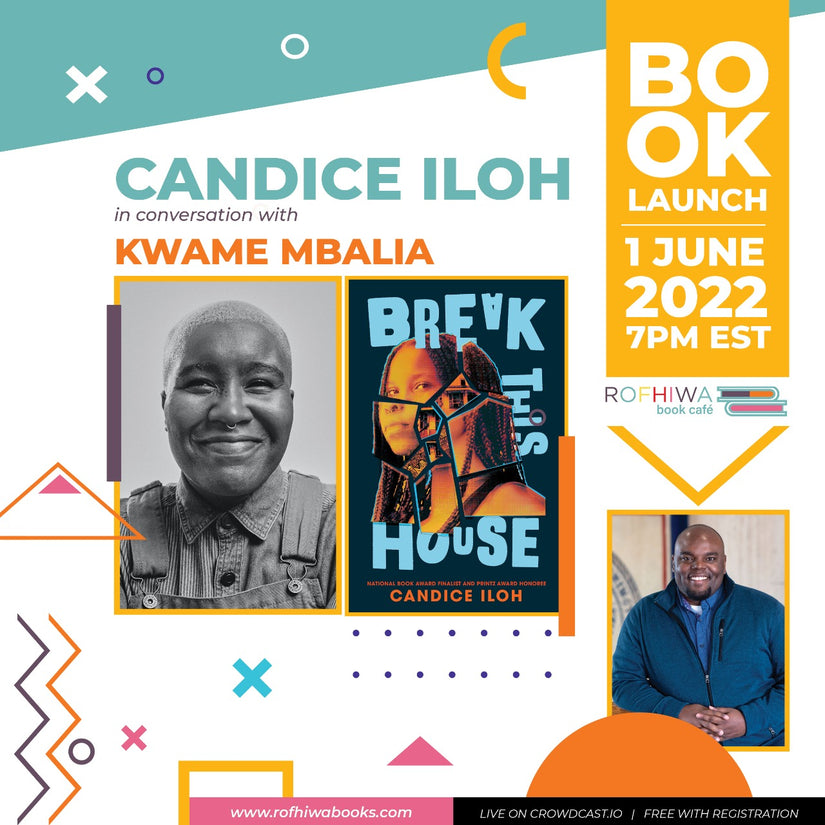 We are thrilled to host the launch of Break This House, a prose novel about a teenager reckoning with her family's–and her home town's–secrets. Please join us as author of Break This House, Candice Iloh talks to New York Times Bestselling author, Kwame Mbalia. This is a virtual event, live on Crowdcast and free with registration. 
Registration: 
This event will be live on Crowdcast.io and free with registration - click "Save My Spot" above or visit:  https://www.crowdcast.io/e/book-launch-break-this
About Candice Iloh:
Candice Iloh is a first generation Nigerian-American writer, dancer, and author of the 2020 National Book Award finalist and 2021 Printz Honoree, Every Body Looking. They have performed their work around the country, most notably at Nuyorican Poets Café in New York City; the Women in Poetry & Hip Hop celebration at the Reginald F. Lewis Museum in Baltimore; and as part of the Africa In Motion performing arts series at the National Museum of African Art in Washington, D.C. Competitively, Iloh has advanced to the final rounds of the Graffiti DC Slam, Beltway Poetry Slam, and 11th Hour Poetry Slam.
With 10 years under their belt as an educator, Iloh has served as a workshop facilitator with Voices UnBroken, a slam coach with Split This Rock, and teaching artist with The American Poetry Museum. Most recently, they completed a three-year residency as a Writer-in-Residence at the Bronx Academy of Letters supporting high school students in the production of new and fresh youth-centered magazine content. Throughout her work, Iloh has remained engaged with the communities they work and live in by mentoring young people creatively within public school classrooms, athletic programs, detention centers, and youth shelters.
About Kwame Mbalia:
Kwame Mbalia is a husband, father, New York Times bestselling author, and former pharmaceutical metrologist, in that order. His debut middle-grade novel, Tristan Strong Punches a Hole in the Sky, and the sequel, Tristan Strong Destroys The World (October 6, 2020), are published by Rick Riordan Presents/Disney-Hyperion. A Howard University graduate and a Midwesterner now in North Carolina, he survives on dad jokes and Cheez-Its.
Break This House: 
Break This House is a prose novel about a teenager reckoning with her family's–and her home town's–secrets. Yaminah Okar left Obsidian and the wreckage of her family years ago. She and her father have made lives for themselves in Brooklyn. She thinks she's moved on to bigger and better things. She thinks she's finally left behind that city she would rather forget. But when a Facebook message about her estranged mother pierces Yaminah's new bubble, memories of everything that happened before her parents' divorce come roaring back. Now, Yaminah must finally reckon with the truth about her mother and the growing collapse of a place she once called home. 
Do you like any template? Apply its settings to your store — just select the template you like and press the «Apply» button of the desirable one. Templates can be switched at any time.
Applying a new template overrides the settings. Press «Copy» and paste it into any text file to save your current settings.
Import